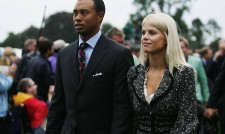 Woman taken by ambulance from Tiger Woods' home
08 December, 2009 15:12
An ambulance responded early Tuesday to a call for medical assistance from the Florida home of Tiger Woods, US media reported.
Local television in the Orlando, Florida area where Woods resides said a call for an ambulance was received from the Woods home at 2:36 am (0736 GMT).
News footage showed an unidentified blonde woman arriving at an area hospital on a gurney reportedly from the Woods home.
The log showed the patient initially refused transport
Orlando's WESH television reported that a radio log showed that an adult woman was transported from Woods' home to Health Central Hospital in nearby Ocoee. The log showed the patient initially refused transport, but was later listed as an advanced life support patient, the television station reported.
WESH added that video from the hospital showed a middle-age woman being removed from an ambulance on a stretcher and taken through an emergency entrance.
News reports said that Woods' mother-in-law and sister-in-law were visiting the golf star's wife.
According to WESH, a black Cadillac Escalade was seen leaving the hospital a short time later, bearing a tag similar to the one involved in Woods' one-car crash on November 27.
The report is the latest development in a running scandal that has tarnished the once golf star's once impeccable image, and follows news reports on Monday said Woods's wife, Elin Nordegren, had moved out of their Florida home following a storm of gossip surrounding Woods and his alleged affairs with numerous women.
Tabloid reports following the accident have linked Woods with as many as 10 women, prompting him to issue an statement apologizing to his family, in a scandal that may have irreparably tarnished his lucrative brand.